Giveaways Around the Blogosphere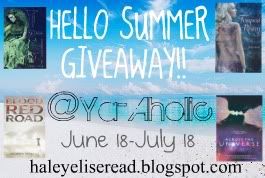 Haley's Hello Summer Giveaway!
Haley's running her first
giveaway
and it's a great one. 25 books to pick from that you can win. The giveaway is international and I don't see an end date but this giveaway was posted June 17th.
I Am A Reader Not A Writer 's Blog
for a chance to win a PDF ebook copy of
"Legend of the Oceina Dragon by J F Jenkins
. Ends 7/12 and is open internationally. And there's another giveaway for a copy of
"Cinder and Ella" by Melissa Lemon
. It's ARC book copy. The giveaway is open to the US only and ends 6/30. Or try your luck to win
"Laney" by Joann Martin Sowles
. It's a paperback copy of "Laney" and is open to internationally. Ends 7/12. Another giveaway to enter for is
"A New Dream" by Elaine Cantrel
. There is a print and ebook up for grabs so this giveaway is international and runs until 7/12.
Aaron Paul Lazar
is also giving away 2 complete sets of his mystery books for one lucky dad. This giveaway is international and runs until 7/11.
Roxanne's Realm
you can win "The vampire Who Loved Me" by Theresa Meyers. This is a Nocturne book so if the title and the cover don't grab you, the books series will. And if you want a taste of this book, check out the rockin excerpt on the
giveaway
page. You have until Wednesday to enter. US only contest.
Housewife Blues and Chihuahua Stories
always has lots of contests going. Right now stop by to sign on for Zoe Winter's Save My Soul Blog Tour. Comment for a chance to win Zoe's new book. Two copies being given away. One print book and one ebook. International giveaway. Ends 6/30/2011
Book Lover's Hideaway
who is a part of the BLB Tour Giveaway for Raven's Kiss by Toni LoTempio. You can win a print or ebook version of Raven's Kiss if you win. I'm pretty sure this giveaway is international although it's not stated on the post. June 18th - 25th.
Urban Girl Reader's Blog
. Comment for a chance to win "Heart of the Highland Wolf". Two print copies to be given away. US entry only and ends on June 25th.
"Father's Day Blog Hop".
47 blogs participating with lots of different prizes to be won. The Father's Day Blog Hop started June 16th and ends June 19th. Still a day or two to try to get some entries in.
There is also the
"Spring Into Summer Blog Hop".
42 blogs participating in this one. It runs from June 17th to June 21st. Lots of great summer reading to be won.
Nancy Holzner
as much as I do? If so, you cannot miss out on heading over to
Larissa's Bookish Life Blog
and reading the wonderful original story that Nancy wrote for her post there. And when your done treating yourself to that, there is even a
contest
at to enter for a pair of Sea Glass Earrings. Is that awesome or what? For those of you new to Nancy Holzner, definitely go read her short story. You don't want to miss out. Giveaway is international. No end date on post.
Pearls Cast Before A McPig 's blog
there's a giveaway for Marjorie M Liu's "The Last Twilight". It seems there's a extra copy of the book that Sullivan McPig had when they ended up winning a bunch of Marjorie's books (Congratulations!) and Sullivan is nice enough to offer up her extra copy to one of her commenters. So go congratulate her and you could come away with a fab book. And I can say fabulous and mean it because I love Marjorie M Liu's books.
Here's hoping you win something!
Labels: contest