Get In On All the Giveaways...
Book Faery
now has over 1200 GFC followers!! Congrats! Want to get in on the celebration? Become a follower for a chance to win one of several possible Book Depot rewards in different denominations of money. International contest ending July 29th.
Supernatural Underground: Books That Go Bump In The Night blog
is having an amazing giveaway. You can win one of two packs of 12 books each. There will be two winners. Ends July 15th.
Pages of Forbidden Love
is having a 500 followers giveaway. Congrats on hitting 500! A 15 dollar Book Depository book could be yours If you enter before July 30th. International.
My Bookish Ways
has a copy of Rosemary and Rue to giveaway. Open to the US/CAN and ends July 15th.
Are you in the UK? Then check out the
Book Chick City's giveaway
for the UK only. Books like Darkness Becomes her by Kelly Keaton or Curse of the Spellmans are up for grabs. Ends July 29th.
Bumps in the Road
is having a 100 Followers giveaway. Congrats on hitting 100! There's a giveaway with 2 books going to 2 winners. Enter before August 31at for a chance to win. International.
Four great books up for grabs over at
Mission to Read's Midnight Summer Festival Kickoff
with a Meg
a-giveaway
, International with no end date listed.
Think you know your book series? Then visit
I Smell Sheep
to guess the book series and win great bundles of goodies and books. Ends July 17th.
Ink Sctratcher's
is having a 12 dollar book choice giveaway from Book Depository in honor of their Blogoversary. Happy Blogoversary! International ends August 3rd.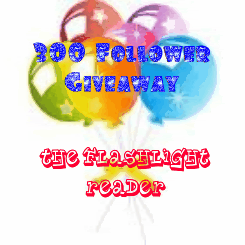 A Flashlight Reader
has hit 300 followers! Congrats!! There are ARC copies of Fury or Vicious Little Darlings to giveaway. Open to US/CAN and ends July 30th.
Books Movies Reviews Oh My
is giving away 2 books released in the month of July to celebrate their birthday month. Happy Birthday! International and ends August 1st.
Ivy Reads
is having a
Pre-Birthday Extravaganza
to celebrate her birthday coming up. She turns 21 on August 21st which also when the giveaway ends. Happy Birthday! Open to US/Can residents.
Visit the
Today and Everyday blog
for a chance to win an 15 dollar Amazon gift card. Ends July 15th.
The Seeing Night blog
is offering a copy of Allyson James's Stormwalker. Open to US and Canada residents. No end date.
The Book Cellar
is giving away sets of the Relic Master series. Open to the US only and ends July 25th.
Good Luck!
Labels: contest